On
December 15, 2011
By
megan
I love finding new ways to use old holiday decorations!  My mom was getting rid of this little piece of "Country Christmas" and I snatched it out of her donation bin.
With a little spray paint and some new decorations I whipped this baby into a "brand" spankin' new tree for [...]
Show me more!

→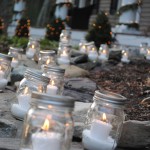 On
December 11, 2011
By
megan
I'm a sucker for countdowns anytime of year, but especially THIS time of year!  Now this isn't the Best of MK Design 2011 (um…blog idea….yes please!) but, here are the TOP FIVE decorations that I love in my own home this year.
5. Mirror, Mirror, on the Table
For my dining room tablescape, [...]
Show me more!

→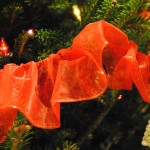 On
November 29, 2011
By
megan
I am aways looking for new ways to spruce up one of our many Christmas trees.  In the basement we have a Disney themed tree (with, you guessed it, Tinkerbell at the top)  This is, by far, the tree my kids enjoy decorating the most!  They get free reign to decorate it however they want [...]
Show me more!

→