So excited to have one of my  favorite websites as a guest blogger today, welcome Houzz  to Do-Ovah.
Hello everyone! My name is Becky and I'm a contributor at 
Houzz
, a home design site focused on helping
design professionals
 and homeowners manage the remodeling and decorating process. Thanks so much to Megan for having me!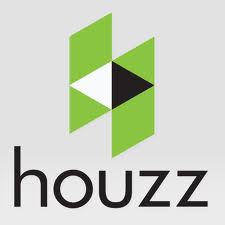 So, I'm here today to talk about kitchen trends. No, not Carrera versus Calcutta marble. Not marmoleum versus bamboo flooring. Not stainless versus enamel. Most of us don't have kitchens like we see in magazines, the ones that are bigger than my entire first floor. The trend I'm loving is paring down and storing wisely, so you can work with what you've got and turn your existing kitchen into your dream kitchen on a budget. This trend includes all of the brilliant and efficient storage solutions currently on the market and what you'll be able to do with the space they save.
First, relax and imagine a light, airy and uncluttered 
kitc
hen
 and think about how you and your family will use it. Next, pare down. Pull everything out, cabinet by cabinet, drawer by drawer, and place like items together. Ask yourself some not-so-tough questions: Did you know you had three identical barbeque sets? How many omelet pans do you really need? Do you have to keep five different sets of china or do you want a bright kitchen that feels larger than it really is? Do you want to hang onto that bread maker you got as a wedding gift ten years ago and used once or would you like a window where you can watch your kids play in the backyard? With all of these things in mind, start sorting everything into "keep," "throw out" and "donate" piles.
Next, head over to Houzz and seek out storage solutions that work for you and the stuff you have left in your "keep" pile (more on how to do this below; I promise it's easy). If the pile is still too big, watch a few episodes of
Clean House
 and
Hoarders
.  Nothing makes me want to drive a carload of stuff to Goodwill like watching Hoarders!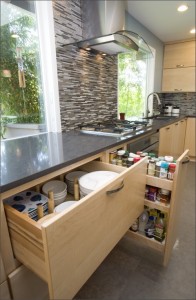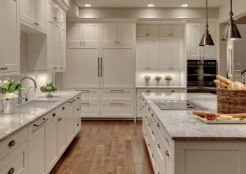 Here's an example of how to use Houzz. I entered "kitchen storage" into the search box and then selected "photos." I can then scroll through the photos, and click on "Add to Ideabook" when I see one I like. I can create as many different ideabooks as I like from there — for example, "Kitchen Storage," "Ideas to Show Contractor" or "Favorite Backsplashes." Some people like to get very specific, while others like to make one giant ideabook containing all things kitchen-related.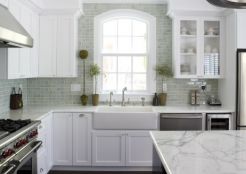 Once you've pared down your kitchen items and found the smartest and most efficient storage solutions, you're ready to receive your reward! While our natural instincts tell us to cover every inch of kitchen wall space with cabinets, your hard work means you'll no longer need to. Instead, you can add art, windows or one of my favorite kitchen trends, extending the backsplash from counter to ceiling.
Another reward for losing the clutter? Replacing bulky and dark upper cabinets with light-colored open shelving.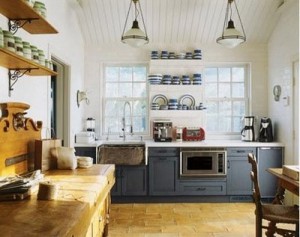 This move makes everything look so much larger and brighter. This is a very attainable and inexpensive makeover for any halfway-decent DIYer. If you do choose a layout like this, there are two rules you need to follow:
1.) Play around until you find a pleasing composition of your china, serving pieces and glassware.
2.) Be aware that this will require some extra dusting. Store your stepladder near the kitchen and place pieces you use often on the shelves so that they will be washed regularly. When one little area is clear, take advantage of the opportunity to give the shelf a wipe down there.
I hope I've inspired you to find some storage solutions that will make your life easier and your kitchen dreamier!
Find more kitchen storage ideas from Boston kitchen and bath designers and more design professionals at Houzz.