This weekend  I had the opportunity to decorate for a Halloween party.  This being a night time (i.e. no kids) event, my clients really wanted to use as much candlelight as possible.  I heart mason jars!   They are such a simple and inexpensive way to create a warm glow by dropping a tea light inside.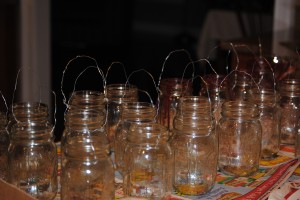 I attached some wire under the mouth of the jar then added a handle to the top.  (Needle nose pliers were my bff for this job)  Lets face it, ideas for mason jars are all over the internet, so in this post I want to show you how I pushed the gross factor for this party!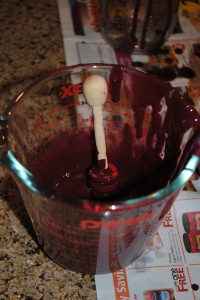 First, I had to concoct the right shade of blood, and although I'm guessing you could find just the right shade at the paint store, but I just happened to be raiding my kids craft room  for this project (which, by the way,  seems to be 3 parts red, 1 part black and a splash of water)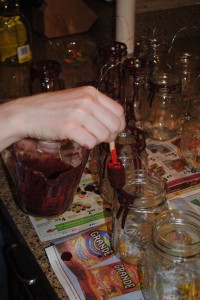 Now, it was a little trial and error to get just the right look for dripping blood (do serial killers think about this?!?) but I determined that the honey dripper's flat top really did the best job!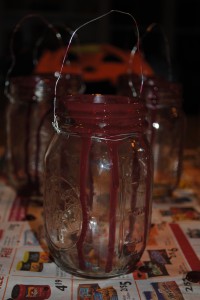 And of course I had to do this to two dozen jars  to really get the full extent of the gross factor!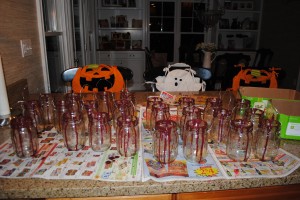 We hung them all over the bushes during the day…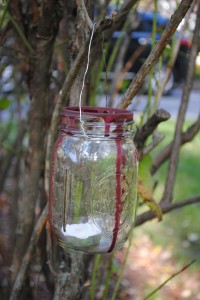 and I couldn't wait to see how they sparkled at night!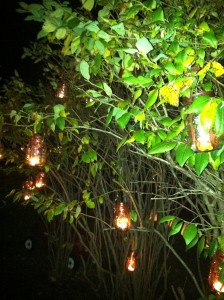 And it looked even better against the luminaries that
light the walkway to the back yard!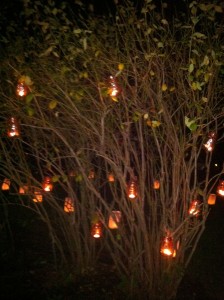 Stay tuned this week for some more fun ideas from my other Halloween ventures (one might have even spontaneously combusted…just sayin'!)