I'm working on an amazing project in Cohasset, and I absolutely love everything about it.  It's a dream job really…great clients, 9 rooms, big 'enough' budget…but I was brought in after another (absolutely fabulous) designer had to step off the project.  Here's the thing, when said designer had to step off, some of the fabric choices were already made, well, before the budget was set.  Which brings me to my dilemma…the Million Dollar Bed Skirt.  Well, it obviously isn't made of gold and lined with diamonds, but when the fabric is over $300 a yard retail and you throw in a couple of euro shams for the bed as well, were talking over $2,700 for 2 pillows and a bed skirt.  A BED SKIRT!  (that is not going into Oprah's bedroom)  Which brings me here today.  I've already ordered the 7 foot custom headboard in Osborne & Little  (see…totally not a small budget project).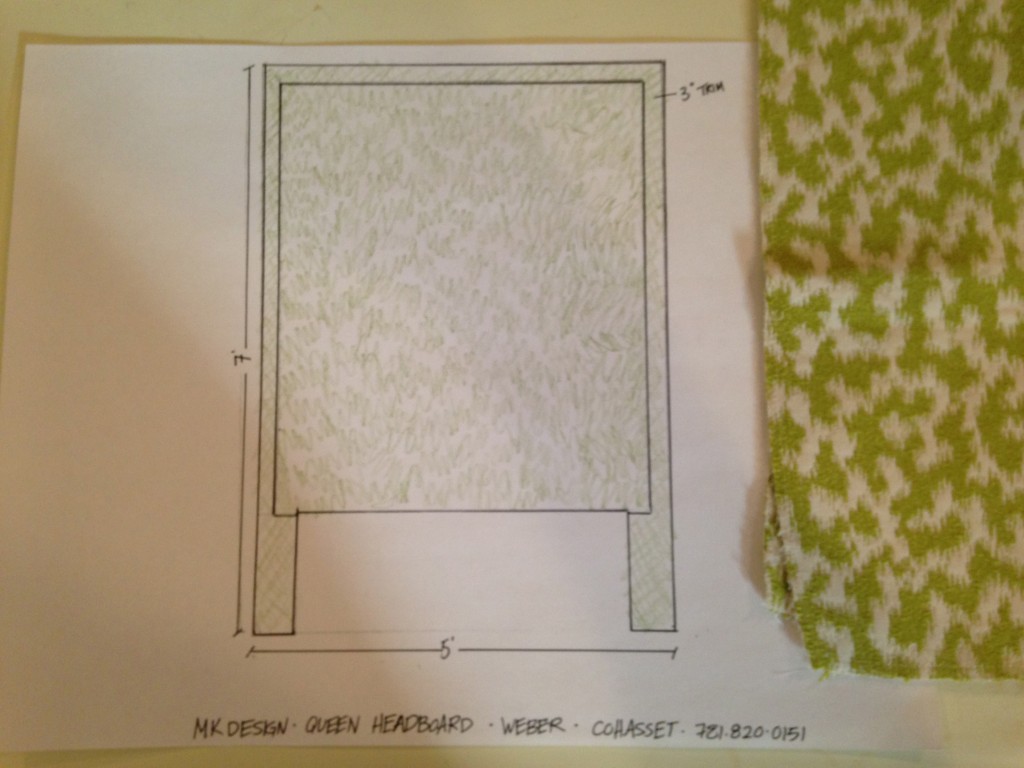 The walls are going to be Benjamin Moore Icy Blue 2057-70.  The curtains are a creamy white linen  and the bedding is linen greige (ya know gray / beige).  So, what do you think of these options?
MDBSA #1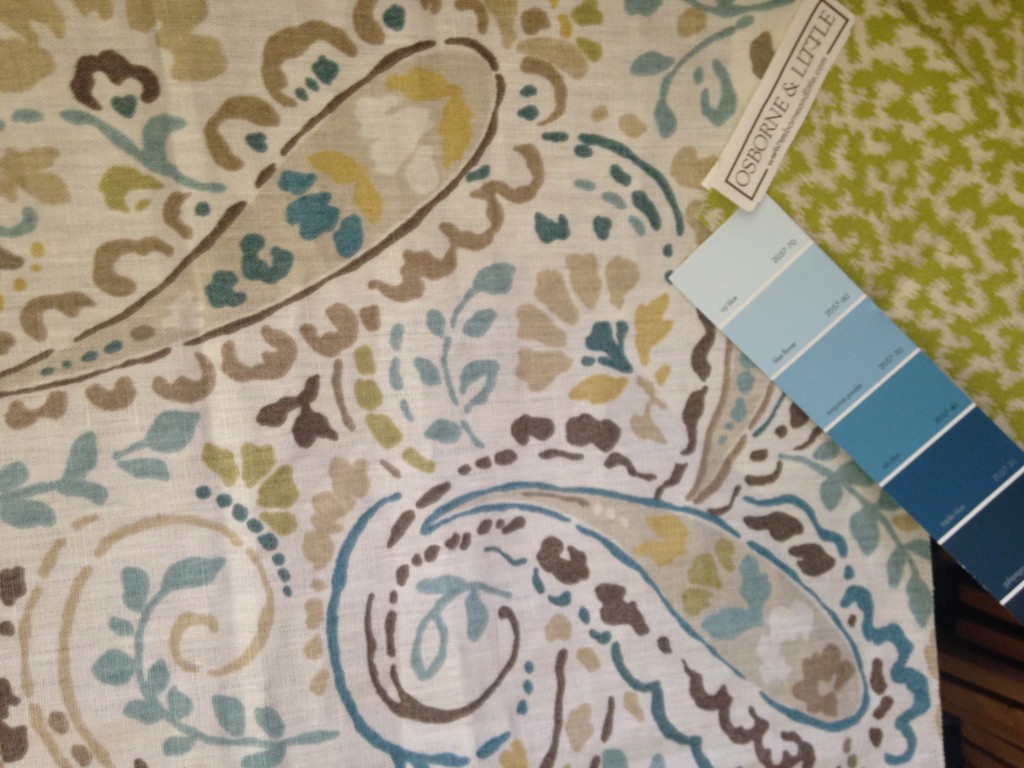 OK, Thom Filicia for Kravet… we all know how I feel about Thom Filicia.  It will certainly work with the creamy white & grege linen and love the blues.  It's a little more masculine of the options, but the green isn't perfect.  Although…sometimes in design perfect isn't, well…perfect.  Moving on.
MDBSA #2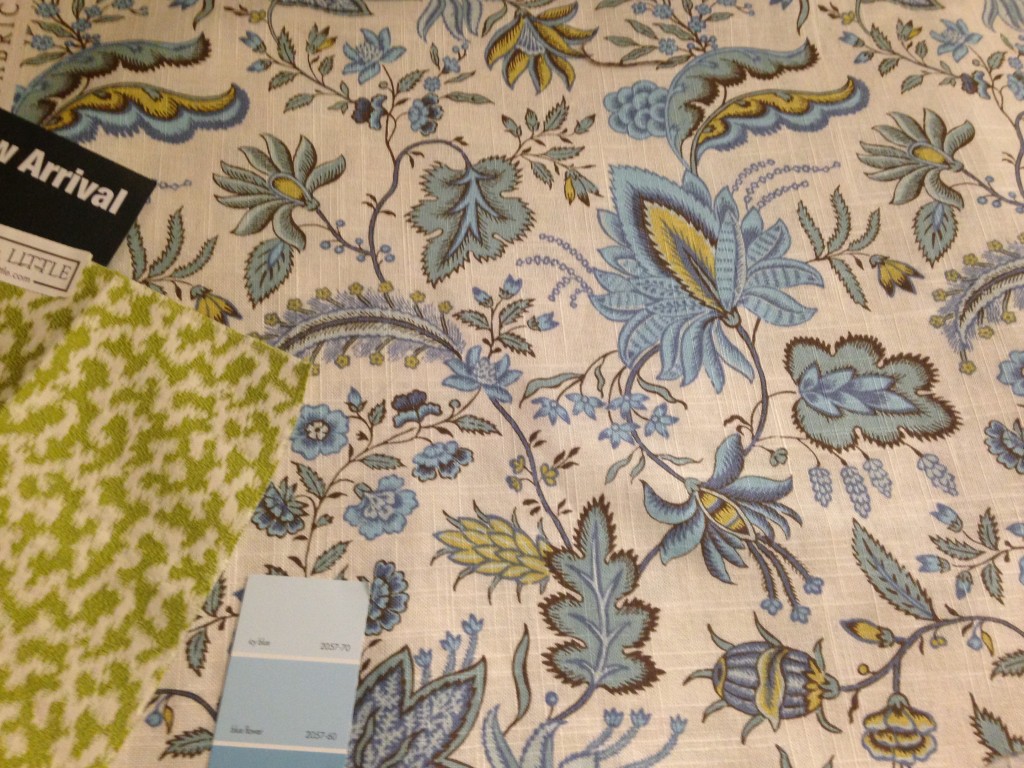 Here is an option from Fabricut.  It certainly works, but it is too traditional?  Maybe.  But I like it.  It could work.
MDBSA #3
This certainly has the blues and the greens and even brings in a pop of yellow.  And it's a little more fun!
MDBSA#4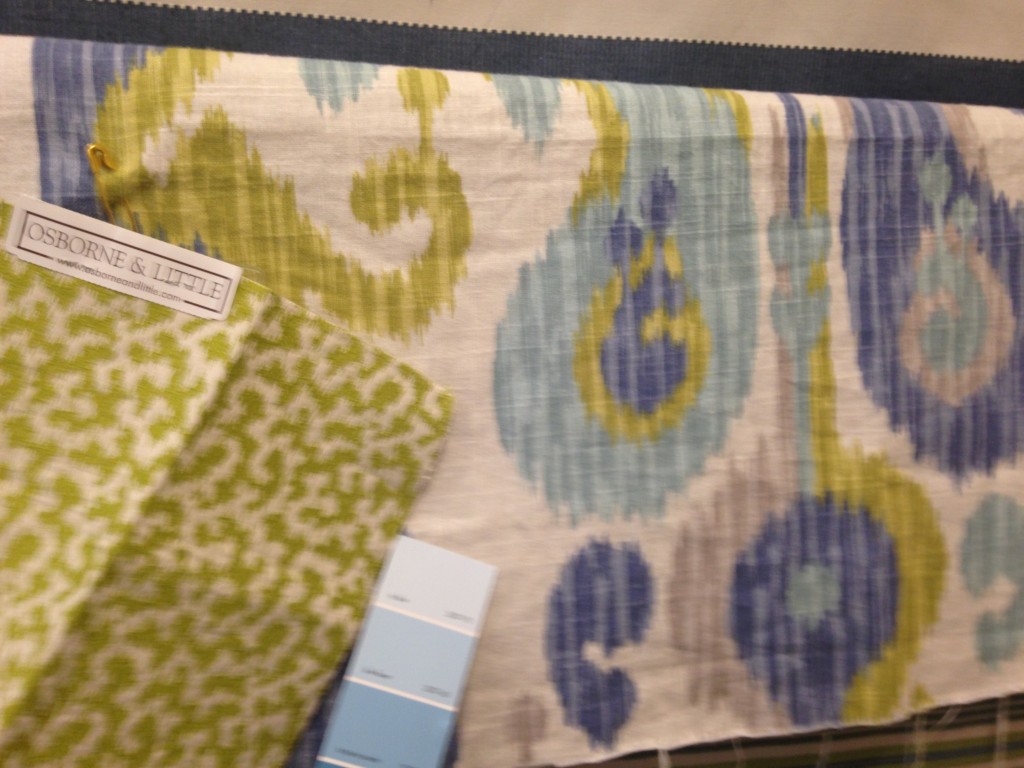 Oooh…I love this one.  Seriously. Love.  But does my client like Ikat?  We'll see!
MDBSA#5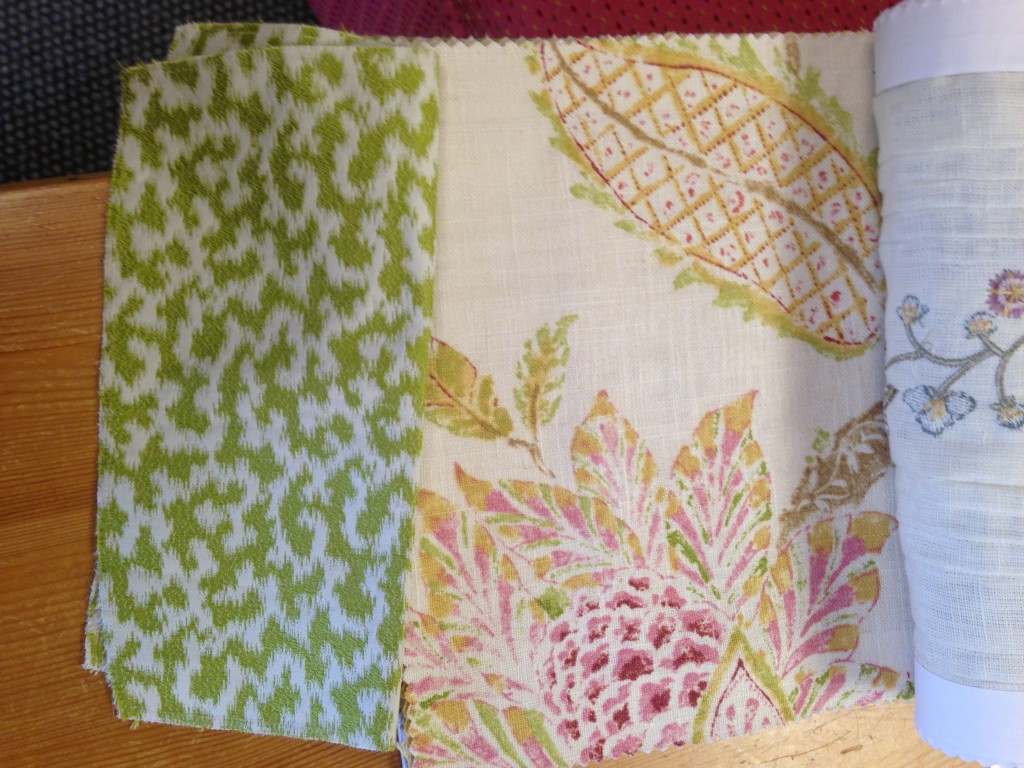 Did I mention that the adjoining master bath is being decorated in pink?  This option pulls in the pink, and although it doesn't have any blue in it, I think it would work well with the cool icy blue.  (sorry I didn't snap a pic with the paint color swatch)
MDBSA#6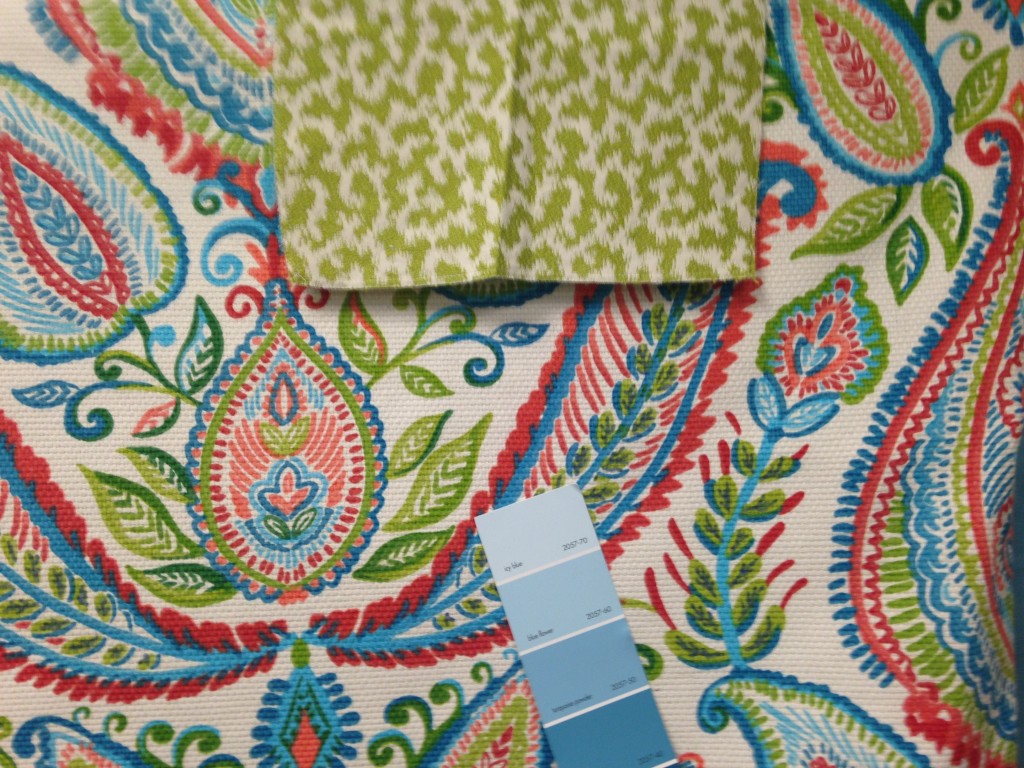 I am also falling hard for this option.  Is it because it's been such a long winter in New England that the spring colors in option makes me so happy?   Or is it just awesome?  You be the judge.
MDBSA #7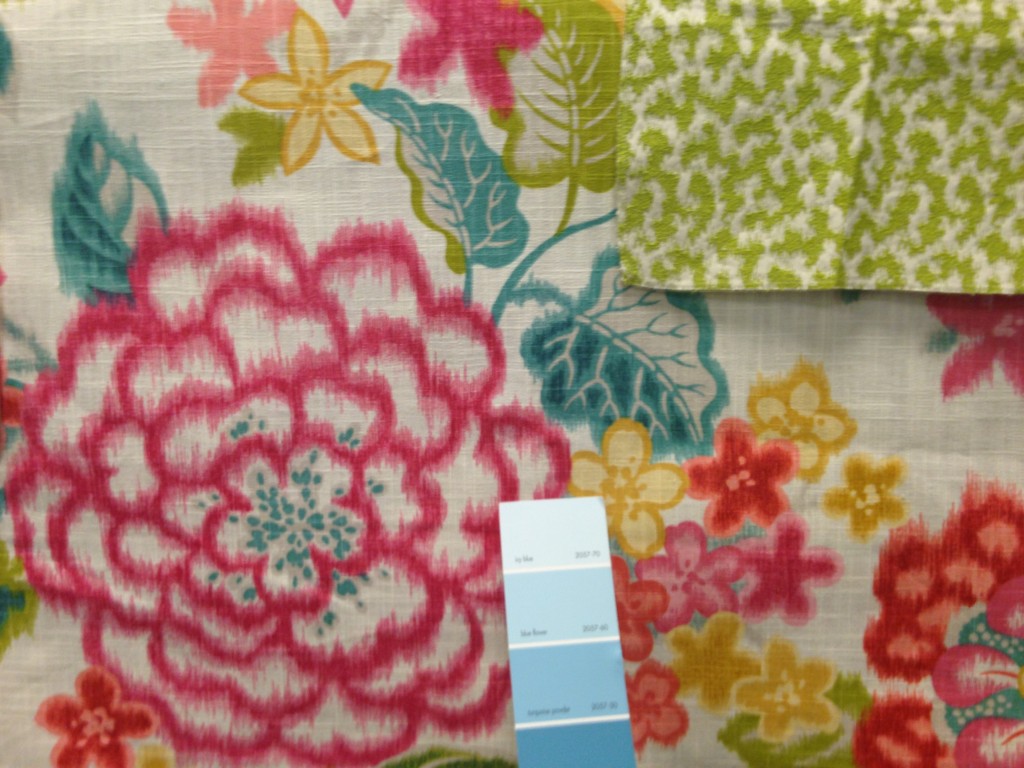 Speaking of spring…loving the colors of this fun floral linen!
MDBSA #8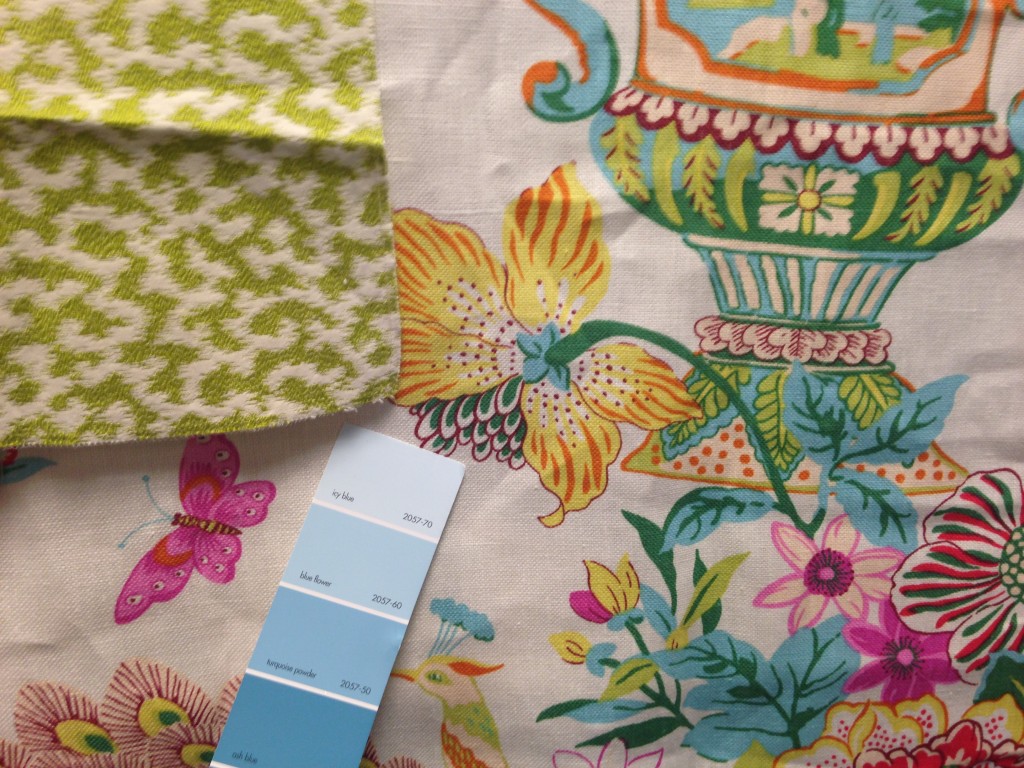 Or how about this large scale fun graphic print?  Here is a peek of what's coming out of the top of the urn.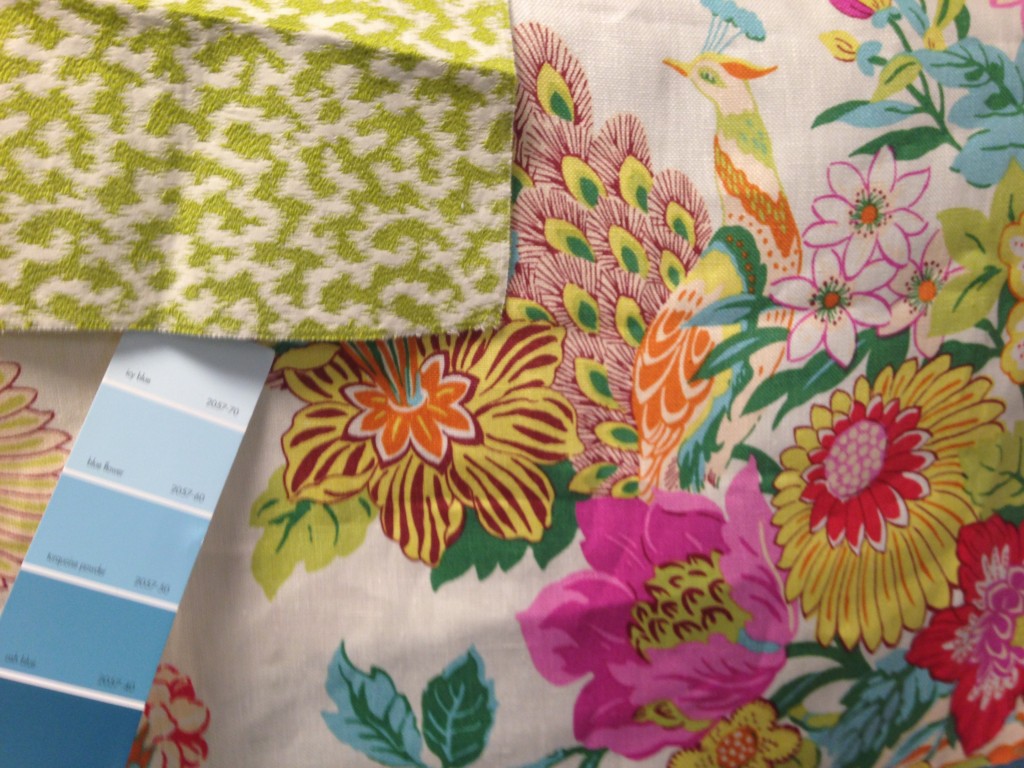 MDBSA #9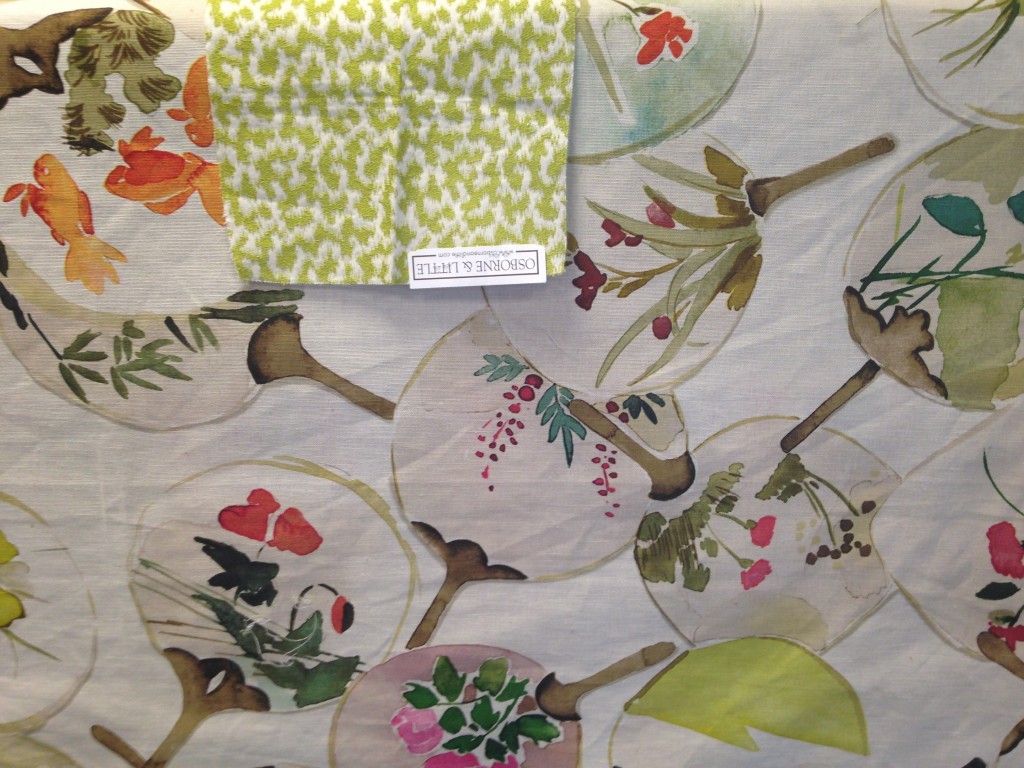 And nothing says large scale fun graphic print quite like these asian fans!
So let me know what you think, and stay tuned to see what my client decides.
* MDBSA = Million Dollar Bed Skirt Alternative