Happy Halloween blog friends!  I don't think that Halloween can get any spookier than snow, no power, and no school…just sayin'
OK back to business, since there were so many elements of the Halloween Bash that I wanted to share with you, I'm breakin it down. Let me start by saying, I'll be prepared this time  when I see some bloody lanterns hanging around, since last week I almost crashed my car into a pole when I spotted a humongous porch spider web on someone's house that I don't even know! (true story)
In this post I wanted to share some of the fun tablescapes I created for this spooky shindig!  First the food table:  simple, slightly spooky, and just a little bit country.  I used 4 yards of burlap fabric for an in expensive table cloth and repurposed the humongous wreath she bought that was way too big for her front door.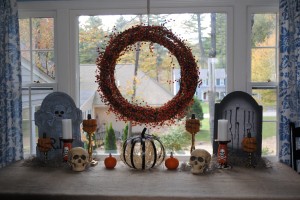 The mantel was covered in moss, straw, and loaded up with a spider web and tons of teeny spiders (with their spider momma of course)  I layered the scene with some cardboard fence cut outs to make it feel graveyardy (yup…real word)  And finally added black and orange glitter skulls to the tops of crystal candle sticks and a pair of bloody candles.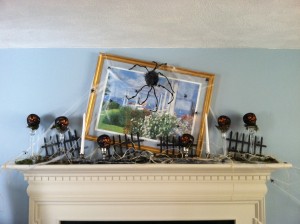 For the dessert table, I stuck with a black and silver motif.  Look to the right and you'll see the flowers my client received for her 10 year anniversary the week before.  Well, they were looking like they were on the way out, so I decided to Halloween them. (black spray paint is pretty much my bff all month)
That's right…I risked THIS scene when she came home…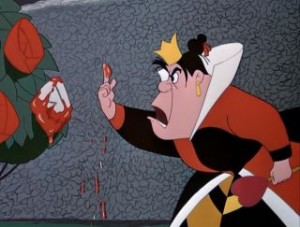 for this halloween amazingness!  Luckily she loved it!  (for the record I did have her husband's OK)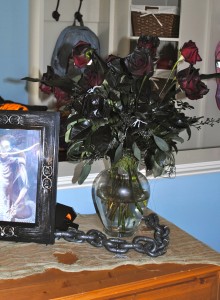 Moving right along…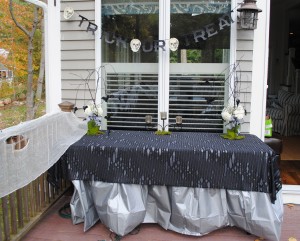 We needed a table outside for the booze (seriously…I did not drink ANY!)  Again, I love a no sew table cloth…2.5 yards of a creepy fabric from Joanne's.  (MK PUBLIC SERVICE ANNOUNCEMENT: GET OUT SHOPPING TODAY…they are practically giving the stuff away now…next year comes quick)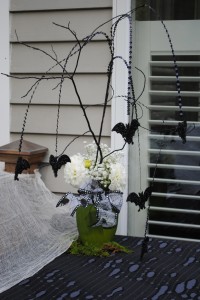 I fell in love with these glitter flying bats and had to use them in my flower arrangement!  Although they flopped more than flew, so I spray painted some twigs to help them along.   Please note that I'm still using the moss…seriously, I'm putting it everywhere!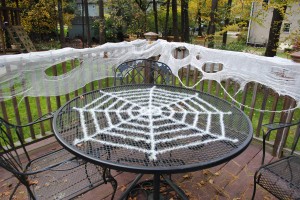 I don't like to follow the rules, so I'm always trying to think of different ways to use decorative items.  I bought this fabric and glitter spider web and pulled it then tied it across their patio table…how fun…right?!?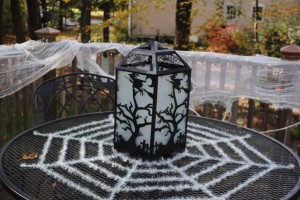 (PS: don't you just love cheesecloth draped anywhere on halloween?  Especially when it's tea soaked, all torn up, and draped across little white christmas lights!)
So to finish off the tablescapes I created for this spooky shindig, I want to share with you this simple and elegant coffee table (totally Better Homes and Gardens…right?).  Love the pumpkin sitting in the moss, love the little silver lanterns, love the white candles, and loved that I thought it would be a good idea to put moss INSIDE the lanterns.  (Well the package didn't say flammable)  Right, remember how I said I loved to put the moss everywhere, um, it's a bad call!  (One of the lanterns may have exploded)  Note to self:  For those of you that love word math…
Moss + Candles =  Explosion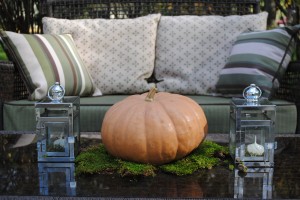 No one was injured in the decorating of this party!
Happy Halloween and get out shopping for deals today! (especially all of you black friday people)  You'll thank me next fall.