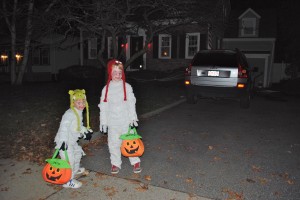 With all the trees down and power outages, Trick or Treating was cancelled in our town last night.  But that didn't stop me and my boys from heading out and getting some yummy loot!  We ventured back to our old neighborhood to trick or treat with our new baby cousin (who, by the way, is not yet a fan of Halloween).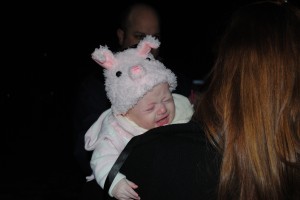 One of our first stops was the house we lived in over five years ago.  We have so many great memories in that beautiful home, but one of my favorite decorative memories were the curtains I made in the kitchen.  Just the other day I was describing them to a client and wishing I had close up photos of them (I made them over ten years ago…long before I was reading design blogs.  Back then, I never dreamed I'd one day be getting paid to do what I love).  The new owners invited us in, and guess what…MY CURTAINS WERE STILL UP AND LOOKING GREAT!  (Yes, my husband was very embarrassed that I was standing in our old kitchen taking pictures) Without any further ado,  drumroll please, meet my fabulous super inexpensive curtain solutions!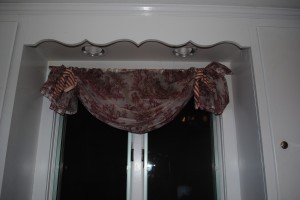 This is a sheer toile panel on a tension rod that was pulled up on the sides with rubber bands and then tied with napkins!  (Total Cost about $7)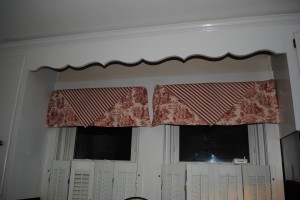 For each window I safety pinned two toile placemats over a basic curtain rod and covered the "seam" with a napkin.  (Total Cost about $11)
Halloween was a real TREAT for MK Design this year!