For the most part I am a pretty traditional gal.  I'm all about the pops of orange when it comes to fall decorating.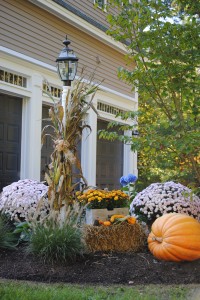 However, when the walkway leading to my front porch looks like this… I simply can't just ignore it!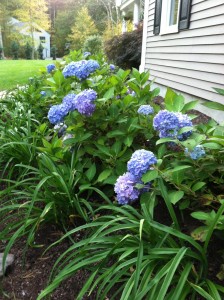 Planted in the spring, the never-ending blooms would certainly make Martha proud.  I decided to use this inspiration as the starting point for my front porch display.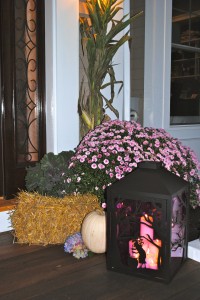 You see, I stuck with the traditional hay bail and corn stalk, but used some hydrangeas as my inspiration splash of color.  From there I added huge fuchsia mums (Costcos for $11.99…no joke) kale with a purple hue & a white pumpkin.  And to top it all off, these amazing Halloween lanterns with the purple glow!  (What would I do without Home Goods)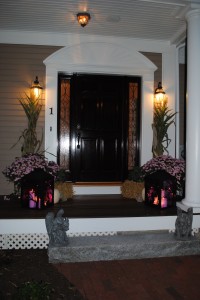 What house doesn't need gargoyles?!?
So there you have it…my non-orange Halloween front porch!  I hope it has inspired you to think beyond the expected in your fall decorating.  Oh and my little friend Charlotte there, check back soon and I'll show to create one of your very own!